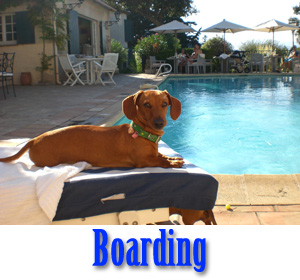 Our Boarding Rates
Dogs
$17.00 per day

Cats – $9.00

Reservations are preferred. Please call during normal business hours.
Boarding Charges are similar to a stay at a hotel/motel. Daily rates begin on the day your pet checks in. Check out time is 11am. A full day of boarding charges are due after 11am. For example, Mon-Wed before 11am is a two day fee. Friday through Sunday is a three day fee. *Sunday is always a full day charge.*
Note: There will be a $25 charge for drop-off or pick-up before and or after normal business hours. This fee must be paid in advance.
We require proof of vaccinations for ALL pets. *NO EXCEPTIONS*  Bring in your records or simply have your vet fax them to our office.
Dogs: Bordetella*Rabies*Distemper
Cats: Rabies*Distemper
Medications are provided by the owner and will be given as directed by the owner for a nominal fee. Special diets are provided by the owner in an air-tight container and fed according to your instruction. Individual feeding instructions are done at no additional cost.